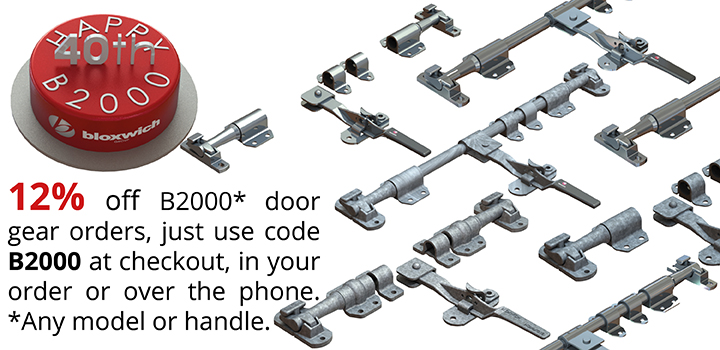 HAPPY 40TH BIRTHDAY B2000!
Posted on Sep 29, 2017

Print This Post
Originally designed in 1977 our B2000 door gear is now 40 and still going strong (with a few revisions and options added along the way). It's available in a variety of configurations including bushed and unbushed, variable height, and narrow base cams and keepers. All for use with Ø27mm tube and either forged, D grip, pressed or pressed long handle options.
To celebrate 40 years of production we are having various offers throughout the remainder of 2017. Starting with 10% of all B2000 model door gear orders just quote code B2000 online at checkout or in anywhere in your order.
See www.bloxwichdoorgear.com for more online offers. Keep an eye out for further eFlyer offers or alternatively just give us a call to find out more about our current and future offers.
Happy 40th birthday B2000, the original and still the best Ø27mm surface mounted door gear.
For more information please see our latest catalogue, call +44(0) 1543 435 160, email sales@bloxwichgroup.com or see www.bloxwichdoorgear.com
Don't forget about out other company websites www.bloxwichtc.co.uk  , www.bloxwichstamping.com & www.bloxwichtrading.com