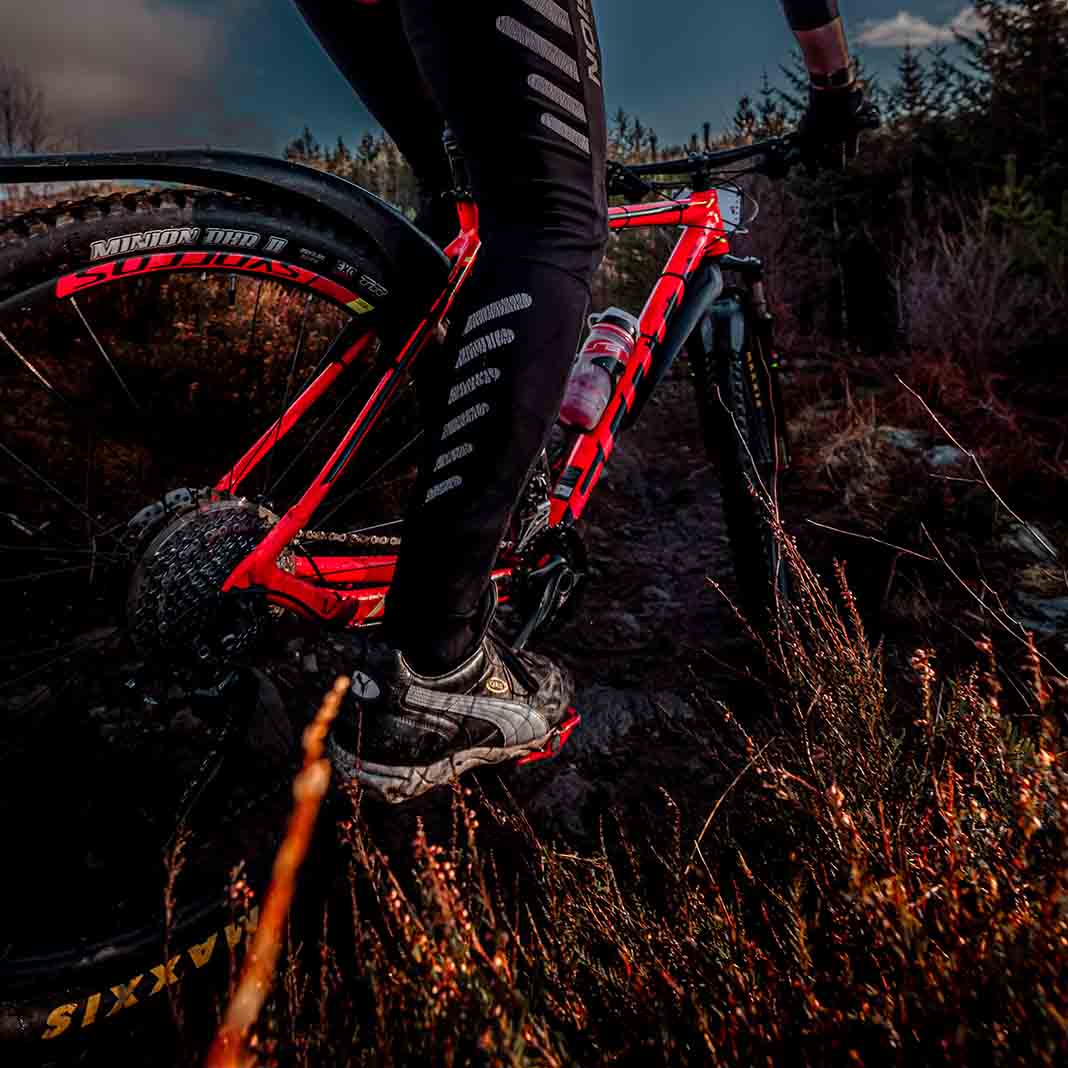 Finally the Strathpuffer is Back Again
Posted on Jan 17, 2023

Print This Post
After an enforced break of 2 years throughout the pandemic the Strathpuffer was back on the 14th and 15th of January 2023 in its usual venue of Contin forest near Strathpeffer and yes we were stupid enough to give it another go.
The Team
"The Pscyclepath" team was to be Alec, Luca, Scott and myself (Neil) as usual. However due to work commitments we were down to three riders before we even got going.
Training for the Strathpuffer
The Aberdeen based riders actually did lots of training, well more than ever before but I guess we did have almost three full years to prepare this time. Hazlehead Park, Countesswells (before all the trees came down), Foggieton, Tullos and the Deeside way were all regular training routes along with various other road runs in and around Aberdeen.
For Neil it made a difference as despite being three years older going uphill at the Strathpuffer wasn't an issue. Better nutrition and sensible snacks kept energy levels maintained for twenty four hours too. Neil was able to cycle the entire track (not necessarily all on the same lap and not every lap). Usually delays were caused by mechanical issues, rider errors, the tricky conditions and not fitness. However fatigue definitely creeps in after several laps in the dark.
Improved Base Camp
With years to plan our Strathpuffer return base camp was improved further. A proper side panel/door for the gazebo was added and the same tent gave plenty of room. The biggest change of all was actually very small but wow it was powerful!
A wood burning stove was bought from www.boutiquecamping.com and it made a huge difference. It gave off the same heat as the Chimnea we used previously but without smoking us out of the gazebo! "Game changer" as it was capable of keeping us warm, boiling water (slowly) and drying our cycling kit. We even bought a flashing kit for the flue to keep the water out and heat in.
Logs made from recycled coffee grounds and grape seeds were used on the stove and a small one burner camping stove got the kettle boiling quickly when needed.
Yes, using a garden gazebo is not ideal as when it rains it can only take so much, before water comes downs the inside but to be honest this is the only time of the year it gets used. Maybe one of these years we'll invest in one of those fancy folding ones with a more waterproof fabric.
Weather
It's the middle of January in the Scottish highlands so rain and cold is nothing new, it's just something you need to dress appropriately for.
However once again we had a little bit of everything, rain, very light snow and it was cold enough to still have a few patches of ice around.
But it could have been a different story as snow did descend on the area over Sunday night.
The Strathpuffer Track
If you've never been there before you need to see it to believe it as it's got a bit of everything. Slow bits, fast bits and really fast bits but all in all it's a really challenging eight miles set in some beautiful scenery!
From smooth fire roads and winding walking paths to rocks sticking up all over the place and sections where everything is made of rock. There are muddy bits, ruts galore (near the end of race anyway), tree roots, potholes but the best sweeping banked turns right at the end make it all worthwhile and keep you coming back for more.
The Strathpuffer Race
Our race order was decided by a phone randomiser app and after the 9:45am safety briefing the usual 10:00am piper and "Le Mans" start went ahead with Scott out first, then Neil followed by Alec.
The cycle of riding the lap, washing the bike, eating and repeating begun. The first 5 laps were completed without anything more serious than a few chains jamming or coming off. What a difference the dark makes as even with powerful lights negotiating your way round the track gets even harder.
A puncture on lap 6 lost time and Alec's glasses (which amazingly were handed in so thanks to whoever found them). Then the small offs started occurring regularly as the track got more and more rutted in places.
During the night lights failed, battery packs ran out way too quickly and Neil's new light from Decathlon was lost. It was there one minute and gone the next (presumably lost in the mud).
After nine laps Scott couldn't continue. This left Alec and Neil to pedal in the early hours and finally into the daylight again. Three more laps were completed taking the total to 12. That's nothing in comparison to other teams or even some of the solo competitors but it's not bad for "The Pscyclepath" team and our winter fitness goals.
More & More Washing
After each lap the timing chip is scanned and handed over to a team mate, but your not finished yet. The next thing you have to do in these conditions is join the cue for the bike wash station. After it's completely over your still left with more washing to take home!
Thanks To
The Edinburgh Bicycle Cooperative (Aberdeen branch) for repairing my bike ahead of the event and at short notice too. Luca for organising as usual. The rider and/or marshal who handed in Alec's glasses. Digital Downhill and Ewan Jeffrey for the purchased photos in this post.
All Done
There were some good chats round the fire, laughs and some scary moments too but that's it all done again for another year. We'll probably see you all again next time.
More Information
For more information on the Strathpuffer see https://strathpuffer.co.uk/ and for their 2023 charities see My Name'5 Doddie Foundation and Cardiac Risk in the Young (CRY)
Also see https://www.edinburghbicycle.com/info/our-shops/aberdeen
For more information on Bloxwich Group, Bloxwich Truck & Container, Bloxwich Stamping and Bloxwich Trading please call us on +44(0) 1543 435 160